We Were Featured On Dateline NBC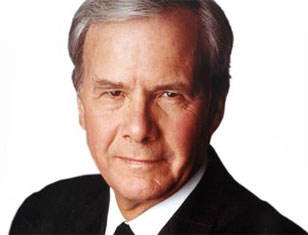 We were featured on Dateline NBC with Tom Brokaw because of our efforts to train and hire returning veterans. It started with the story of Staff Sgt. Charles Weaver…
As Tom Brokaw said, Charles Weaver has been on an extraordinary journey in the last ten years. And the NBC News team, led by Tom Brokaw, has witnessed much of this soldier's odyssey firsthand. In the Autumn of 2002, when the war drums were thumping with a growing sense of inevitable conflict with Iraq, Staff. Sgt Weaver's 3rd Infantry Division at Ft. Stewart, GA was just about to receive the order to deploy to Kuwait as part of Operation Iraqi Freedom.
Charles returned home after the fall of Baghdad but his 21 years of service in the army didn't seem to count much as he searched for work. Most of the jobs seemed to go to officers with college degrees. And, he said, he used to run into prejudice: potential employers were wary of hiring Iraq or Afghanistan vets, worried about how wound up they might be and how that might play out in the work place. For a man who had always worked, not having a job made him feel worthless at times.
After Charles's story aired on national television, there was another big page-turn in his life story because Mike and Susan Costigan from Illinois were watching.
Mike Costigan, the founder of 1st-page.com, is a Morning Joe viewer. He took to heart a point Joe made on the show several times last year – that most Americans were unaffected by the wars in Iraq and Afghanistan. So when Tom Brokaw appeared on Morning Joe to discuss his Dateline NBC documentary called The Road Back, he and Susan made a point of watching the Dateline show — rather than sports, as they normally would!
They were so touched by Charles's story and his raw emotion. They found it hard to believe that a man who had commanded an army platoon in such difficult circumstances was unemployed and struggling to get by.
As it happens, the Costigans are media entrepreneurs and own several successful internet companies, including 1st-page.com, a search engine optimization service company….
Watch Excerpts From The Dateline NBC Feature Story

Our USA Based SEO Team Is Ready To Serve You…
We don't outsource overseas – Of course there are many talented and effective overseas search engine optimization workers but…
The fact is, in today's quickly changing search engine battleground, clearly understanding the North American market is more essential than ever. There are simply too many nuances, too many cultural and linguistic essentials that can make or break you and…
Unless your search engine optimization team is based within the same marketplace, you're walking a very dangerous path on behalf of your company and your clients because…
Context in today's search engine marketplace is more important than ever before and although someone can learn English proficiently and may be a very effective technician, without a day-to-day living experience within the same cultural marketplace they are serving,  they are completely without any contextual reference for the product they're seeking links for.
An outsourced overseas team may even be avid fans of North American culture and commerce but do they have the cultural sensitivities to fully understand contextually where and how your optimization is most effective?
The truth is, they simply cannot and don't. An overseas SEO team doesn't understand North American cultural context just as the average person in Minnesota doesn't understand East Indian traditions or knows the most popular soft drink in the Philippines. The average person doing SEO in Minnesota could not be expected to know where or how to begin accurately optimizing or seeking links for a Chinese herbal health remedy because they simply have no contextual reference for that product. They don't know the product may also have spiritual or obscure cultural references that make it completely wrong to place that product within other herbal cures or typical health products.
As search engine algorithms become more contextual and the search engines themselves become more aggressive toward obvious search engine optimization, do you really want to trust your SEO and your clients to a team of overseas link builders who don't truly understand we all think Justin Bieber sucks? In today's marketplace context is everything and that's specifically why our staff is based in the United States and…
We're certain you agree, contextual and cultural insights are essential to successful search engine optimization in today's marketplace and that's just one more rock-solid component in the 1st-page.com advantage…